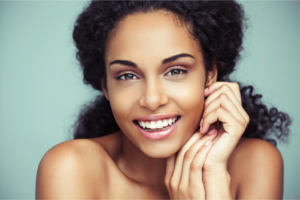 Ever wonder how some women mysteriously seem to look years younger than their actual age? It's a mystery that beauty researchers have been trying to crack for years. It turns out, as reported in last month's Cosmo, that your level of happiness is a key player in your body's aging process. Simply put—happy people tend to age well!
This is great news for us at Chesapeake Vein Center and MedSpa because we devote every day to making you as happy as you can possibly be with an array of beauty treatments. We can't think of a better way to up your happiness quotient—and beauty—than by treating yourself to some much-needed TLC at our medspa!
We believe in doing things the right way, from the start. That's why we offer VISIA Complexion Analysis, a state-of-the-art imaging technology that can provide a thorough picture of your skin's health from the inside out. Using multi-spectral lighting, VISIA can capture every detail, from deep pigmentation concerns to surface lines and wrinkles, to precisely determine which services will best suit your skin's unique concerns. Whether you're in need of a photofacial or fractional skin resurfacing, VISIA is the first step to revealing your skin's health and vibrance.
Your roadmap to vibrant skin, VISIA Complexion Analysis can be the first step to revealing your happiest, most beautiful self! Call us today at 757.663.5461 to get started.