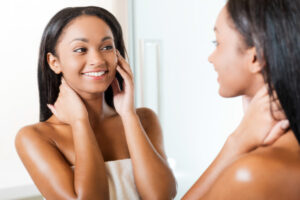 Did you enjoy a summer of love, or of sun damaged skin? We hope it's the former, but we've got you covered if it's the latter! Even with diligent SPF application, it's nearly impossible to avoid every UV ray that comes your way. As the harsh summer sun winds down, now is the ideal time to start a new skin care regimen for undoing the damage and revealing your luminous best throughout the year. Here are three key skin-saving steps:
Get the picture.
Your first step toward radiant, healthy skin is a VISIA Complexion Analysis, state-of-the-art imaging technology that provides a thorough picture of your skin's health from deep within. VISIA can capture every detail so we know exactly how to help your skin.
Be strategic.
Depending on your specific skin concerns, we can recommend a course of treatment that includes skin rejuvenation to stimulate new collagen production and remove sun-damaged cells. If your main concern is age spots or freckles, for example, a photofacial may be ideal, whereas more invasive treatment with Halo™ fractional skin resurfacing may be recommended for more intense rejuvenation.
Nurture it.
Every skin care consultation will also include the recommendation of potent skin care products so you can continue to care for your skin at home. We offer an expert selection of physician-grade, results-driven skin care products, including SkinMedica®.
Start your regimen for radiant skin today! Call  757.663.5461 or click here to schedule a consultation.